Payment Plans | Financing
If you'd like a payment plan for your order, please email us at ContactUs@RawMotiveWorks.com or fill out our Contact Us Page. Payment plans are installment payments that are paid throughout the manufacturing time.
Check out our FAQ Page for more information!
We are now offering a financing option. There is a limited amount of financiers that we will allow at one time. This process will be first come first serve. We will have a waitlist. Once a financing slot is open and a customer is on the waitlist, we will contact those next in line. Please email, DM us on Instagram, or fill out our Contact Us Page to be added to the waitlist or to see if a slot is open.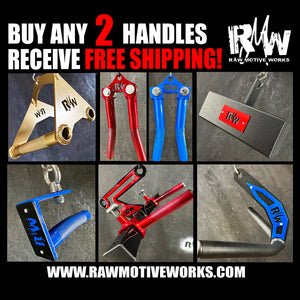 FREE SHIPPING will be an option at checkout. THIS IS ONLY VALID FOR ORDERS OF TWO (2) HANDLES. ORDERS OF ONE (1) OR MORE THAN THREE (3+), DISCOUNT WILL NOT APPEAR. Only for lower 48 states in the USA.
Want four (4) handles, and still qualify for FREE SHIPPING? Consider placing two (2) separate orders, or reach out to our team to place the order!
Valid Starting June 02, 2023. Will be valid until further notice.
Lead Times
Our current lead time for a one (1) machine order is approximately 19 to 20 weeks. 
Current lead time for handles / attachments is approximately 4 to 5 weeks. 
We provide discounts on orders of three (3) or more machines, discount does not include ECON SERIES! Email us to get a custom quote! Discount only valid for payment plans, paid during manufacturing.
Please check your SPAM FOLDER if you have placed an order with us. Sometimes your order updates may not go to your INBOX.
Updated On November 21, 2023
Alaska, Hawaii, & Puerto Rico Shipping
We are now shipping handle orders to Alaska, Hawaii, and Puerto Rico. Shipping will be calculated at check out! If you have any questions or issues, please feel free to reach out to us!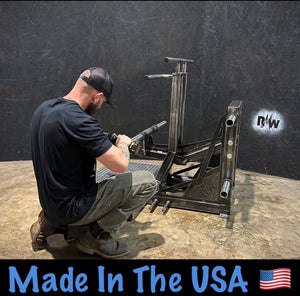 About Us
Video : "The Journey" With Raw Motive Works
Our company is a small family owned business that manufactures specialized gym equipment. All of our products are made in the USA. They are designed, and tested by everyday gym goers.
We continue to evolve our designs to ensure that someone who is 5 feet tall will be able to comfortably utilize a machine that is also suitable for someone who is 6 feet tall. We strive to provide high quality products with undeniable details and designs. Realizing that each and every person is unique, we design products with multiple adjustments.
We always do our best to help our customers. Whether they've lost bearings, broken some bearings, need new end caps, etc. Customers who have purchased from us know that we do all we can to take care of them. We continue our customer service even after an order has been paid for and delivered. We typically respond to emails and messages within hours, or less than a day. We also tend to respond 7 days a week, not just during the work week.
We are here to change the fitness equipment industry.
We take pride in our products and value our customers! Thank you for supporting our small business!
Have you purchased from us before? Email us a review to receive a discount on your next order! Email us for more details!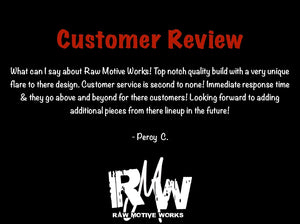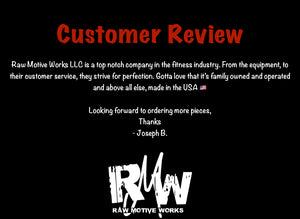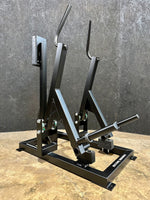 ECON SERIES
The problem with inexpensive gym / fitness equipment is it typically never works as well as it should, if at all. Also, it is almost never made in the USA. We are now offering a line of American Made equipment, that won't break the bank, but will function properly. A "base model" so to speak. We have stripped the adjustments and "luxuries", etc. to provide the most affordable version of our equipment.
Still great angles, weight curves, and movement paths. No extra fluff. 
ECON Series | Standing Row
Additional Customer Feedback
"... so as far as @rawmotiveworks goes first and foremost their customer service is absolutely second to none, family owned and operated and you can tell they appreciate their clients and love what they do..."

Owner of Lubischer's Burn & Blast Training
"The members are really loving this piece! Nothing but positive feedback.
"

Owner of Armbrust Pro Gym